HilltopAds user account interface for publishers
11 languages ​​​​are available in your personal account - English, you can also choose German, Spanish, Portuguese, Arabic, Chinese, Russian, Indonesian, Vietnamese, Thai and Hindi.
Let's take a closer look at each section.
---
Dashboard
The first section of your personal account is the Dashboard. It is like the main page. Here you can see your earnings statistics for the last 2 weeks.
Please note, the statistics are updated every 15-20 minutes in the UTC time zone.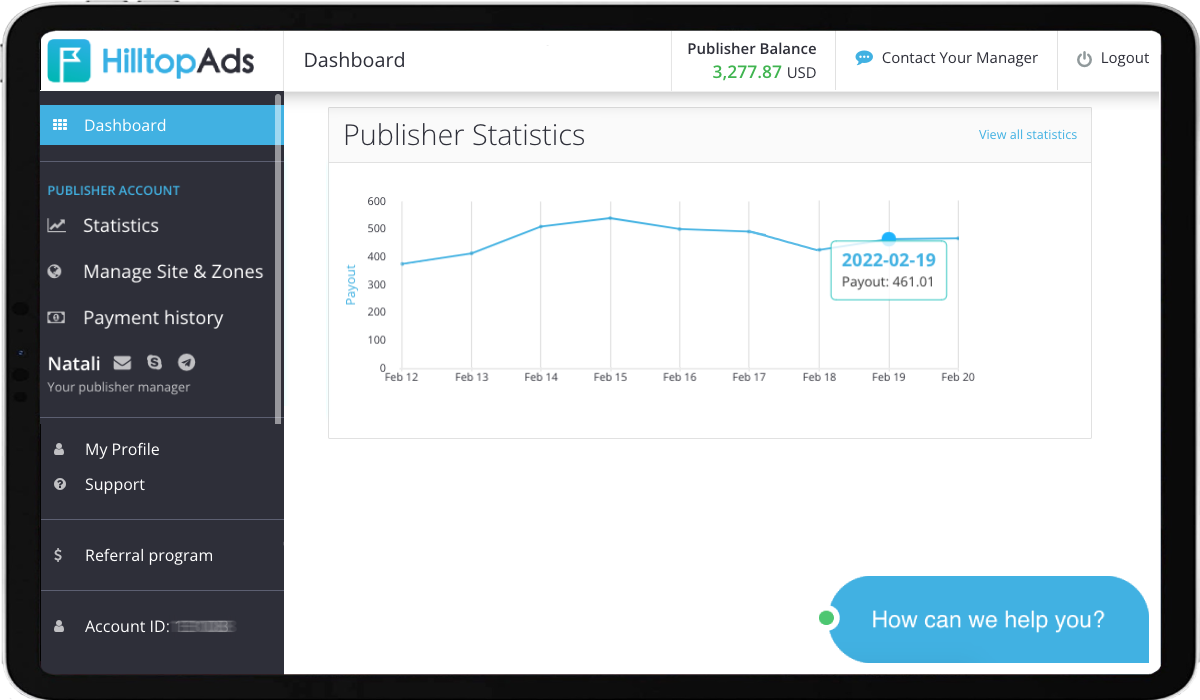 My Account
One of the most important sections is My Account. Here everything is related to account security and payment information.
How to open an advertiser account?
In the Profile subsection, you can change your personal data. If you entered your email incorrectly during registration, in this case, you need to contact your personal manager and ask him to change your email. For security purposes, HilltopAds does not allow you to change your mail on your own so that your account is not stolen. Each HilltopAds user can access personal support from a manager via telegram, skype, mail or online chat. The manager's contacts are listed in the menu on the left or in the top bar.
Here, you can also see the Publisher's Balance, Account ID, language selection button and Logout button. And yet, if you work both as a publisher and as an advertiser, then also in the Profile section, you can open access to the advertiser's account by checking the box next to Show advertiser account.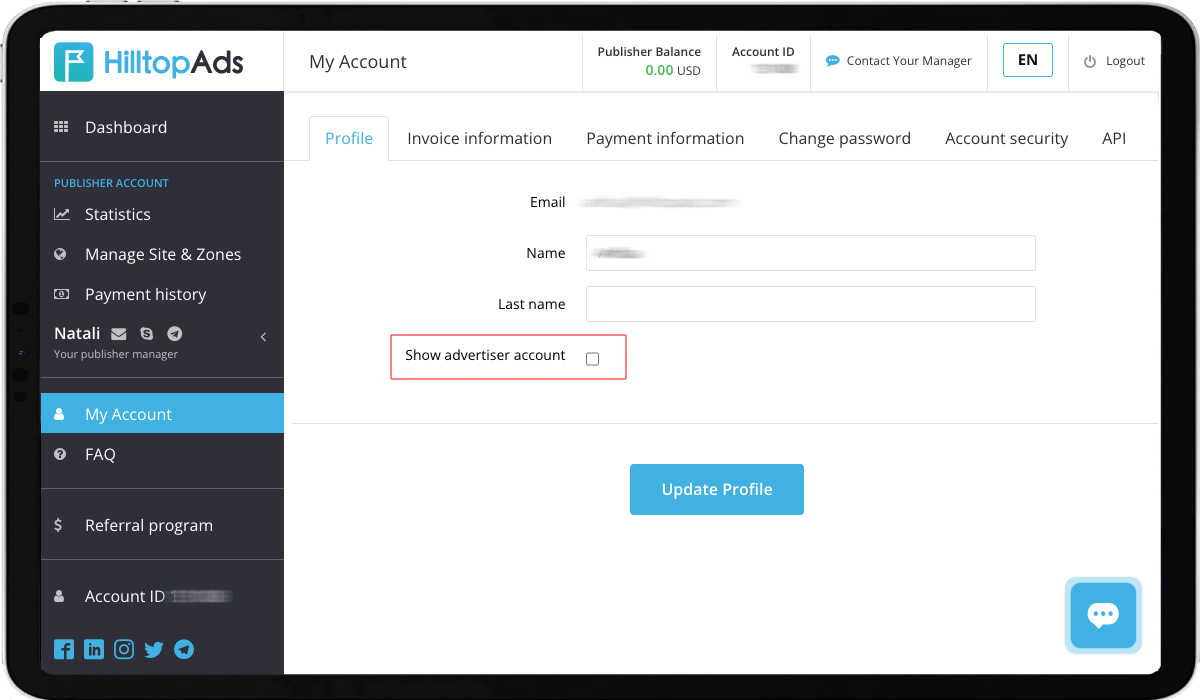 To receive your income, specify a preferred payment method before starting work. To do this, go to the Payment Information subsection. Choose the appropriate payment method from the ones offered: Bitcoin, Capitalist, Paxum, PayPal, USDT (ERC20/TRC20), Webmoney or Wire Transfer.

The minimum payout at HilltopAds is $20 for all payment methods excluding Bitcoin ($50) and Wire Transfer ($1,000). Below you can choose the desired minimum payout amount, but at least $20. Thus, you will receive a payout when your balance is $20 or more.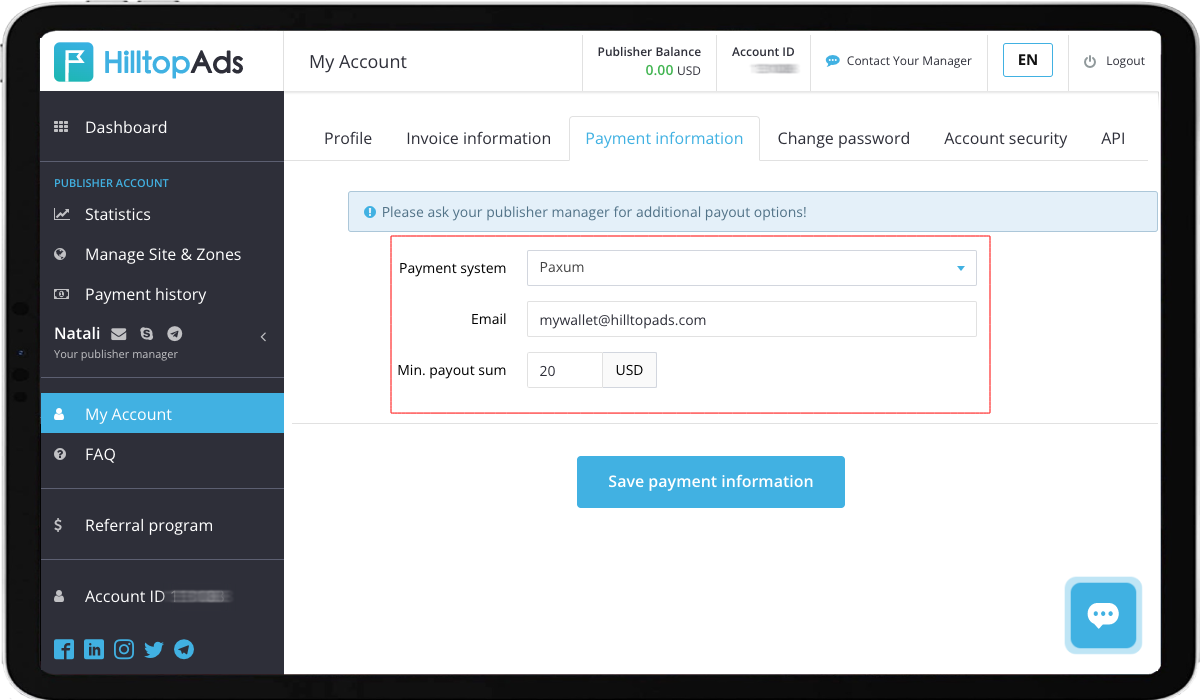 HilltopAds pays publishers every Tuesday based on the Net7 scheme. If you start sending traffic on the 1st of the month, your first payout will be on the 14th. You will receive payments for traffic from the 1st to the 7th of the month. The following payment will be on the 21st of the month. You will receive payment for traffic from the 8th to the 14th of the month and so on.
If you want to change your password, you can do so in the Change password subsection.
For even more effective protection of your account, specify a list of allowed IP addresses for accessing your account or enable two-factor authentication using Google Authenticator in the Account security section.
You can create an API key to manage campaigns remotely or get statistics in the API subsection.
Statistics
Here you can download detailed statistics on the sale of your traffic for each site and advertising zone.
You can make an upload according to the following parameters:
Advertising type, Site, Zone, Advertiser, Country, Grouping, Date Period.
Manage Sites & Zones
In the Manage Site & Zones section, you can add a site, select the ad format that will be placed on your site from Popunder, In-Page, Video or Multitag, after your site is verified, or create a Direct/Smart link to monetize a group, for example, on Facebook.
Payment History
And the best section for each publisher is Payment History - here, you will find data on all your payouts, those that you have already received, and data on the next payout.
Below are the contacts of your personal manager, who will always be happy to help and answer any questions.
FAQ
In the My account section, we have already been with you. Lower there is the FAQ section - where answers to frequently asked questions are collected. And in addition to this section, HilltopAds has a blog, which contains detailed guides for working with an advertising network.
Referral program
You also have the opportunity to attract new users to HilltopAds and get paid for it. To do this, go to the Referral Program section. You will receive 5% of HilltopAds' profit from every active publisher and advertiser you refer to.
You can write an article about working with HilltopAds or a post in your group and place your referral link there. Or choose the banner you like and place it on your blog or the site. Please note that HilltopAds pays not for the number of registered users using your referral link but for those who registered using your link and started working (either monetizing the site or launching an advertising campaign). Therefore, by writing a review of the HilltopAds advertising network on your blog and posting a link there, you will be able to attract those who, like you, want to monetize your site and will receive money for it.