How I earned $3,000 using Popunder and Direct Link formats at HilltopAds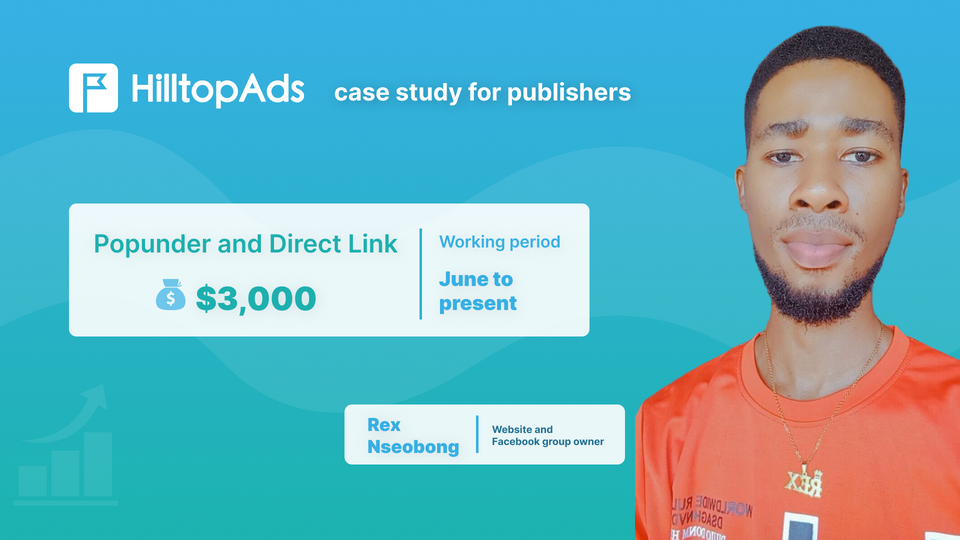 We decided to make case study interviews with our active publishers and bloggers to tell you on how you can earn with HilltopAds, what the best practices are and why publishers choose HilltopAds for their work.
Today our active publisher, Rex Nseobong, will tell you how he earned more than $3,000 with Popunder and Direct Link ad formats within 4 months.
Key points:
Name: Rex Nseobong
Country: Nigeria
Ad formats: Popunder and Direct Link of HilltopAds
Website category: mainstream
Working period: From June 2023 to date
Earnings: $3,172
Rex Nseobong
Website and Facebook group owner
Nigeria
---
About ad formats:
Pop-up and pop-under ad formats are highly effective ways to capture the attention of your audience and generate higher conversions. In HilltopAds, we provide user-friendly tools to help you incorporate these formats into your website monetization strategy. This ad format is CPM-based.
What is a Pop-up ad format?

A pop-up ad is a separate window that appears above the main browser window and takes the website visitor to the tab with the advertisement, typically triggered by a specific action or time delay.
How to monetize a website using Popunder? Check out the guide!
What is Direct Link and how to monetize a social network group using this ad format? Check out the guide!
How have you known about HilltopAds?
I found out about hilltop ads from a friend who was using them on his website at the time.
What the traffic sources are you working with?
I have an entertainment website created on WordPress. My two main sources of traffic are Search Engine (Google to be precise) for the website where I am using Pop ads and Social Media (Facebook to be precise) where I am using Direct Link.
How do you check the traffic quality and optimize your earnings?
Well, optimizing traffic can be sophisticated. In short, it's something that has to be learned.
For example, learning how to run Facebook ads properly. There are a lot of step-by-step guides on how to start working with Facebook ads. When that is done, the rest is easy.
Also there are a lot of tools to monitor traffic quality but I do things the default way. Which is by monitoring activity on my pre landing page while working with Direct Link.
For example, I'm promoting a betting company with hilltop ads and I write about this niche, run betting ads on Facebook and start getting users.
There are a lot of website/webpage creation platforms but I use WordPress which gives me deeper statistics of my users and every activity they perform, From Ad Click Through Rate (CTR), Bounce Rate, Average Time Spent On The Website and lots more with the help of Google Analytics and jetpack.
The main parameters which help to realize a traffic quality is low:
A high bounce rate,
low ad click through rate,
very short time spent on the pre landing page.
As for Google traffic, you can be rest assured it's high quality.
Why are you still working with HilltopAds?
The feature that makes me stick with hilltop ads till today is high CPM rates. I mean who doesn't want maximum profit for his or her traffic?
Believe me I've tried dozens of Google Adsense alternative ad networks. None comes close to hilltop ads in terms of CPM rates.
Another feature I love about them is their support system. My account manager (Dennis) has really been helpful In so many ways when I had issues with monetization, payments and lots more.
For me, their support system is top notch.
What recommendations would you give to publishers who have never worked with HilltopAds?
For new publishers embarking on the journey with hilltop ads. Good luck! There's a lot of money to be made from the company with your traffic.
But I have one warning: Do not try to outsmart the system. In a more straight forward term, do not send bot traffic or proxy to your website in order to earn. That's Ad Fraud and I can assure you it'll only lead you to one destination - ACCOUNT BAN!
In my case, I have earned more than $3,000 and continue earning nowadays. I receive money every Tuesday via USDT and I really recommend anyone to try HilltopAds!
Want to earn money? Register with HilltopAds and create your own financial success story!