This website uses cookies to ensure you get the best experience on our website.Learn more
We Sell the best WW Traffic:
mainstream and non-mainstream

Easy Self-Service platform with real support

Deposits start from $50 via various payment systems
START YOUR CAMPAIGN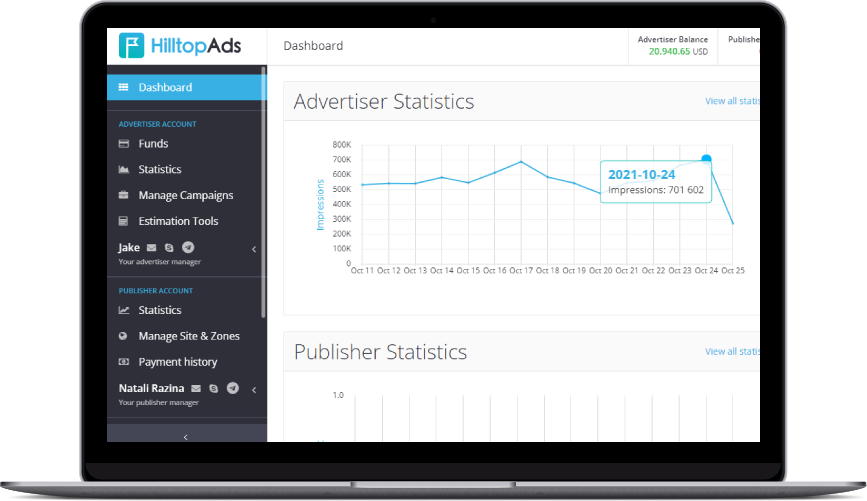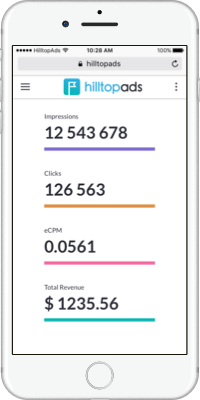 Audience Targeting
Country / City

Device Type

Language

OS / Browser

Time Targeting

US states

Frequency Capping

White and Black Lists

Mobile Carrier / Wi-Fi

IP Range / ISP
Top Traffic GEOS with the Best Rates
DESKTOP
US

$1.00

GB

$1.30

BR

$0.50

RU

$0.70

IN

$0.50

ID

$0.40

SE

$1.50

DE

$1.00

NL

$0.95

IT

$0.70

JP

$0.80

PL

$0.30

TR

$0.30
ANDROID
US

$1.70

ZA

$4.00

IN

$0.60

BR

$0.65

SA

$0.80

IT

$0.70

PT

$0.50

TW

$0.25

ID

$0.30

TR

$0.25

IQ

$0.15

EG

$0.20
iOS
US

$1.70

GB

$1.70

IN

$0.70

FR

$1.00

DE

$0.90

BR

$0.70

TH

$0.35

RU

$1.00

ES

$0.70

JP

$0.90

MY

$0.65

NL

$1.00
TRY Traffic estimator
Already have an account? -
Login
and check out the rates!
Reasons to join HilltopAds
Verified Traffic

We scan all traffic for bots, viruses, and malware with powerful in-house and third-party fraud filtering tools.

Competitive Rates

We provide competitive CPM rates for the best quality traffic for top GEOS.

Self-Service Platform

Easy Self-Service platform with fast campaign approval and launch.

RTB

Buy traffic via our smart RTB platform for media buyers.
Supports multiple
trackers
Join Our Team of Successful Partners
© 2013–2023 HilltopAds. All Rights Reserved.