How to get fans on OnlyFans.
A case study for those who would like to increase numbers of subscribers on OnlyFans and other sources.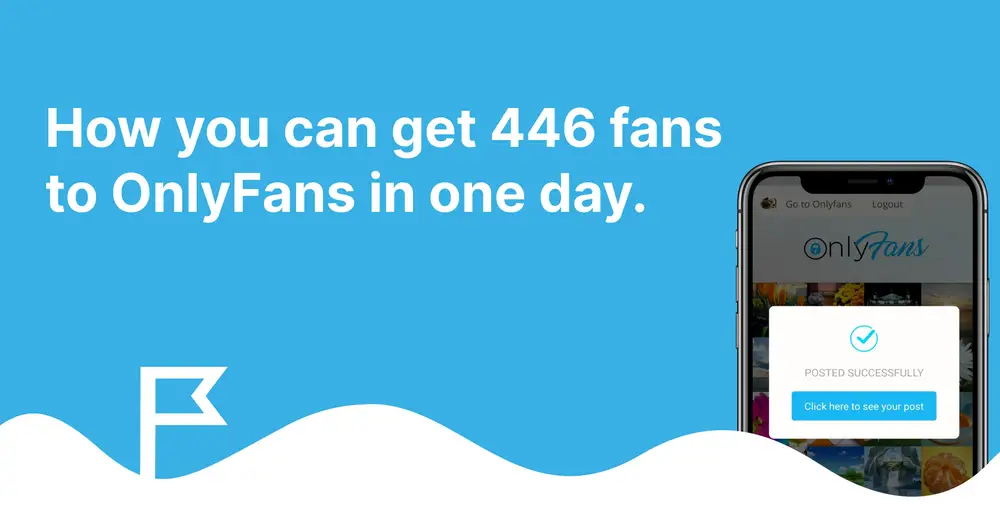 In the industry of OnlyFans marketing, new models and agencies constantly emerge that require high-quality traffic. Therefore, OnlyFans has been gaining increasing popularity among webmasters. Working directly with models is more profitable and easier compared to traditional offers.
Key points of the case study

Ad Format: Popunder mobile
Ad campaign period: 24 hours
GEO: United States of America
Spending: $286
Impressions: 206 700
Numbers of subscribers: 446
Cost per subscriber: $0,64
What is a Popunder ad format?

A popunder ad is a type of advertisement that appears in a new window or tab behind the current one. Popunder ads is one of the oldest and most popular forms of online advertising. They are a type of ad that appears in a new browser tab, hidden behind the active tab, and only becomes visible once the user closes or minimizes the current one.
Popunder ads are effective because they have a higher conversion rate than other types of ads. When a user clicks on a popunder ad, it's usually because they're interested in the product or service being advertised.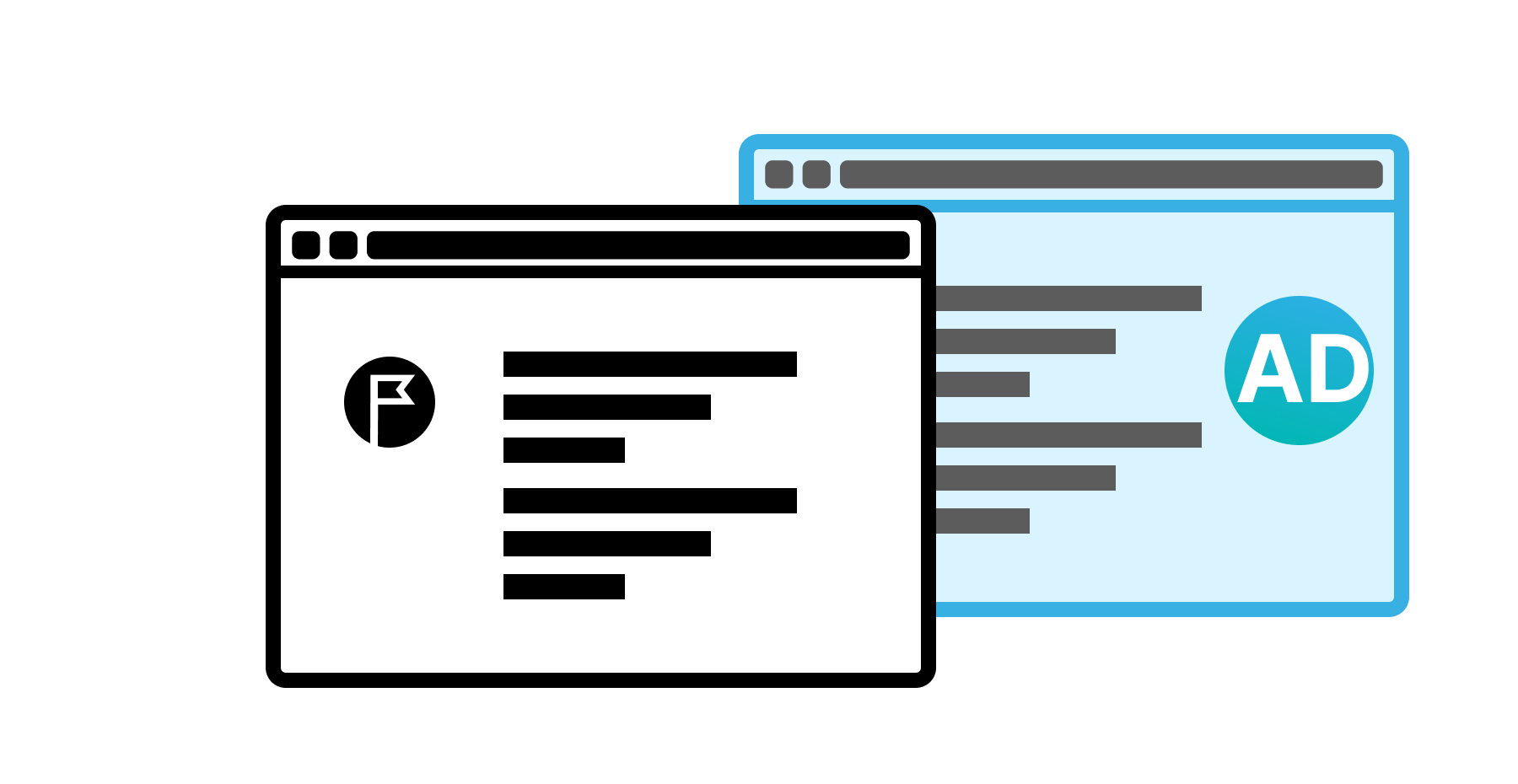 How to start on Hilltopads.com and set up a campaign for OnlyFans?

How to get fans on OnlyFans? First, choose the "Popunder" ad format. We chose mobile devices, but you can also choose desktop: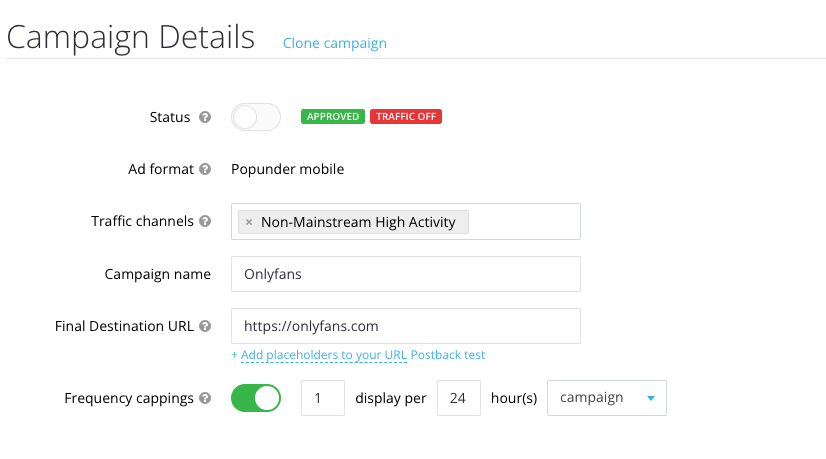 Also HilltopAds works with In-Page and Video ad formats.
Next, you need to determine the traffic segment. In this case, it was non-mainstream, which refers to adult traffic. If you don't need adult traffic, choose mainstream.
Each traffic segment has its own activity, which you can review when selecting the segment:
HIGH ACTIVITY level. This channel represents the most active and unique audience which gives you a chance for a higher conversion rate.
MEDIUM ACTIVITY level. It's the best combination of price and conversion rate. This channel performs really well, so you can run and optimize your campaign with no surprises.
LOW ACTIVITY level. This channel is free from bots, but users from this group are kind of tired of ads and show less active responses.
Next, assign a campaign name, specify the URL, and choose the frequency capping.
Specify the desired country, choose the browser in which the ad will open, and the type of operating system: iOS, Android, Windows, or Mac OS. You can also select the device type and language. I disabled Android and kept only iOS devices: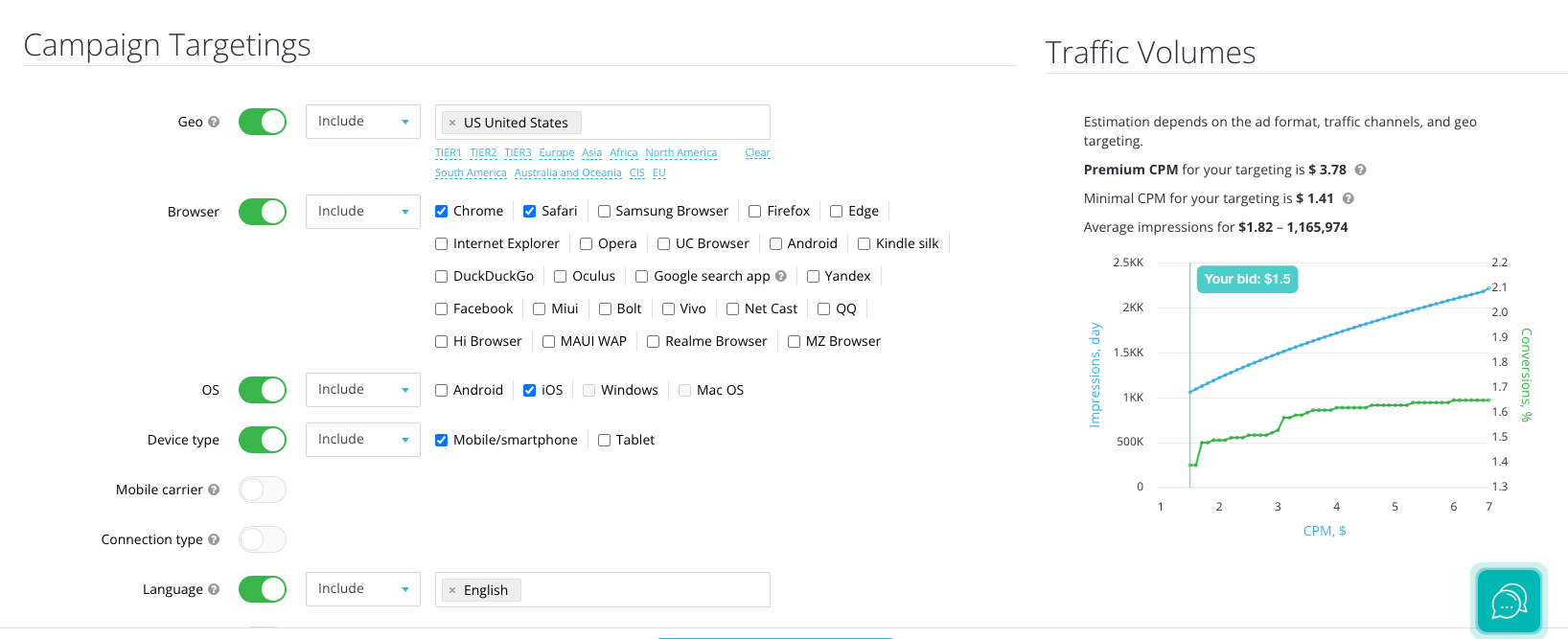 Set the daily campaign budget and choose the campaign pacing. I used the accelerated delivery type.
Once the targeting settings are completed, the system will display the estimated traffic volumes based on the selected parameters. This estimation depends on the ad format, channels, traffic, and geo-targeting: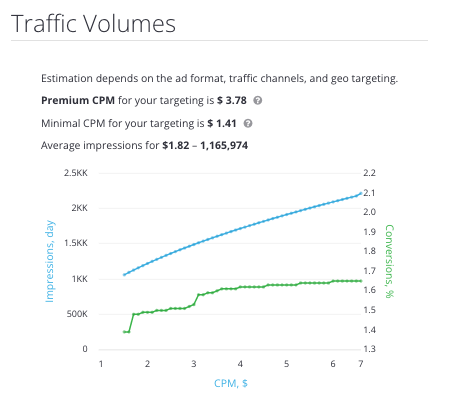 You will also see the recommended and premium CPM (cost per mile) rates.
After selecting the rate, click the "Create Campaign" button. The traffic will start running within 10 minutes.
For those who have never launched traffic from ad networks, these settings may seem complex. However, in reality, it is straightforward and intuitive. If you are unsure about any setting, you can find explanations in the dashboard.
And also your personal manager is online and always is ready to help you! Contact their via email, skype, telegram or online chat
What are the results?

First model: a new OnlyFans influencer's account with ten posts and iOS traffic. Here are the statistics from the ad account:

A total of 94,000 impressions were delivered with expenses amounting to $122. And here is the statistics from OnlyFans: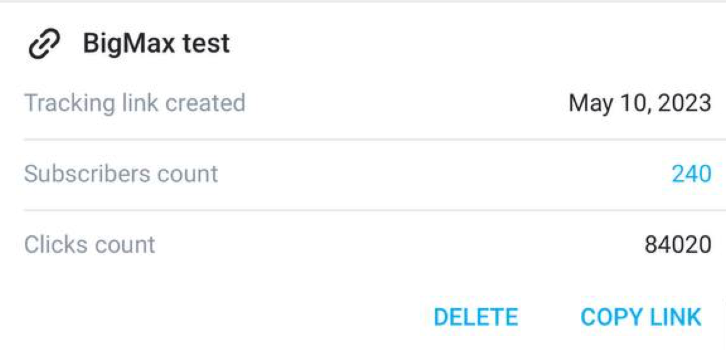 I spent $122, and there were 240 fans from the US who subscribed to the OnlyFans account. The cost per subscriber was $0.5. Here is the expenditure statistics for members:

Second model: an influencer's account with over 100 posts, with both iOS and Android traffic. Here are the statistics from the HilltopAds ad account:

A total of 112 700 impressions were delivered with expenses amounting to $164. And here are the statistics from OnlyFans: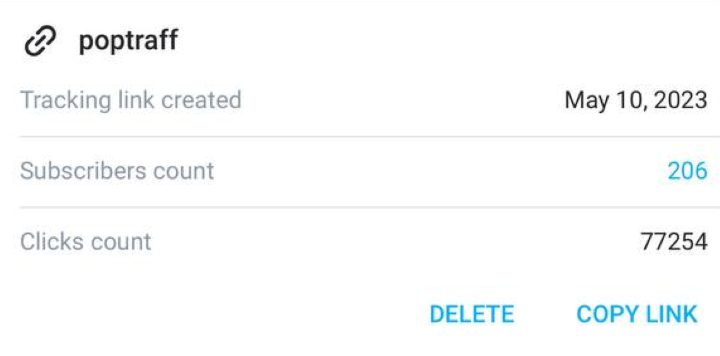 By spending $164, 206 fans from the US subscribed to the OnlyFans profile. The cost per subscriber was $0.79. And here are the expenditure statistics from members for the second model:

The screenshots show that there were few sales, and the total revenue was small. There are several reasons for this: I drove traffic directly to OnlyFans without warming it up, and I did not manually process the traffic further. All the sales were made by a bot. My main interest was to test the traffic source for models and determine the subscription cost. Of course, if this traffic were manually processed by experienced individuals, the amounts would be more substantial.
How to achieve better results and what can be improved?

In the OnlyFans marketing, to engage the user and warm them up, you can create a pre-lander for the model. For example, a simple one-page website with basic information about the model and some photos/videos featuring her. This can be effective for users who don't have an OnlyFans account yet. They can see the model's content and be enticed to pay to see more.
You can also try redirecting traffic to the model's social media accounts such as Instagram, Twitter, and Reddit before directing them to the OnlyFans profile.
Hilltopads.com provides a large audience from Tier-1 countries with high purchasing power at very affordable prices, and the ad impressions can reach up to 10 000 000 per day. Detailed targeting options and a user-friendly dashboard offer opportunities for testing and experimentation.