How to Make Money with Snapchat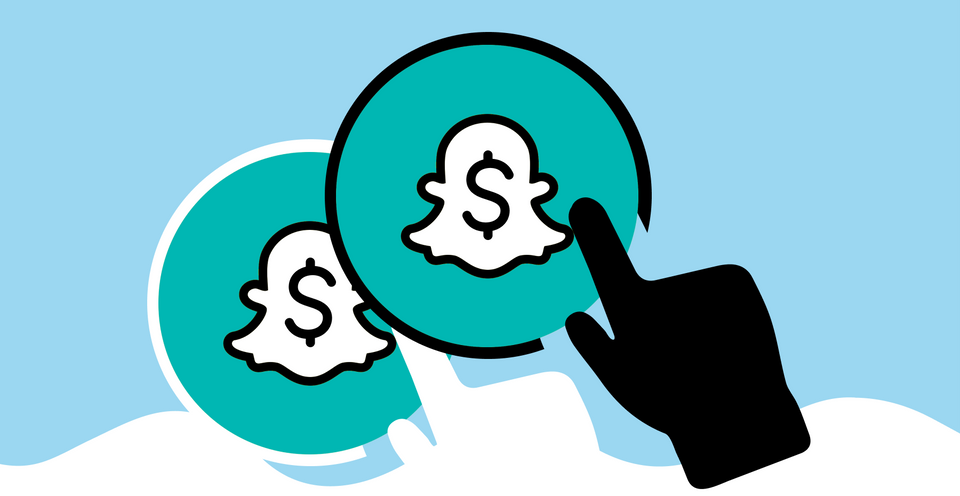 If you don't know how Snapchat works, you're probably over 25 years old. The app was originally created for messaging that disappears after 24 hours. However, with the addition of new features, Snapchat has turned from a simple messenger into a full-fledged social network. Now it's one of the most popular apps among the under-25s.
The social network differs from Facebook, Twitter, Instagram and others not only in the interface, but also in the principles of operation, the mechanics of content sharing and user interaction. Let's explore the details about Snapchat and the possibilities of monetizing content on this platform.
Who Were Snapchat Creators?

Who was the Snapchat creator? History doesn't know a single Snapchat creator. The path from a simple, at first glance, idea to a kick-off presentation was completed thanks to the joint efforts of three Snapchat creators — Evan Spiegel, Reginald Brown and Bobby Murphy, Stanford University students.
A fresh, and most importantly, inherently unique idea with "short-lived" photographs belonged to Reginald Brown. His colleagues, other Snapchat creators, appreciated the potential of this approach to communication between network users.
The very first version of Snapchat was released in the summer of 2011 for the iOS mobile operating system called Picaboo. The application was not noticed by the general public: in a few months only 120 users downloaded it.

Amid the first unsuccessful launch, Snapchat creators quarreled among themselves over the rights to the startup. After a while, Reggie Brown, who was virtually a true Snapchat creator, left their team. Left alone, Evan and Bobby in the fall of 2011 gave the application a new name — Snapchat. In the spring of 2012, more than ten thousand people used Snapchat. As of July 2023, the messenger had 750 million active daily users.
How Does Snapchat Work?

Snapchat is not at all the messenger we are used to. The main feature that the Snapchat creator embedded into the messenger is the ability to exchange messages and short videos.. But unlike Instagram, no one pays attention to "beauty" and quality — what's the difference if the photo disappears after a few seconds? This is another key feature invented by the Snapchat creator: when you send a photo, you choose how long it will be shown to the recipient — you can specify 10 seconds, or you can set one. Of course, no one will bother you to take a screenshot, but the sender will be immediately notified of your behavior. And perhaps next time he or she won't send you anything interesting.
You can add a caption to the photo, draw a picture with your finger, or apply a sticker or filter over the image.
This also works with video: if you switch to the front camera and hold your finger on your face on the screen, it will be "scanned", and you will be able to apply one of the "masks". You can simply save the resulting photo or video ("snap") to your smartphone gallery and upload it to other social networks. The second way is to find your friends on Snapchat and send the Snap to them. The first time you launch the app, it will ask you to access your phone book to tell you which of your friends are already using the service. You can also add friends by nickname or snapcode.
Snapcode is your avatar, which is a bit like a QR code and is unique for each user. If you take a screenshot or photo of such a snapcode and send it to a friend, he will be able to add you to Snapchat without entering your nickname. You can hide a series of your photos in a snapcode — and get a gif.
The third path is called "Stories". This is your public snap feed. It allows you to tell the world what is happening to you: a photo from the morning, a video on the way to work, a few photos from the bar in the evening. In history, snaps live for a day, and you can review them during this period as much as you like.
Thus, Snapchat is not only a messenger, but also a social network. Snapchat is used by a lot of media such as Buzzfeed, Mashable and National Geographic creating their own stories. They even have a dedicated Discover section on Snapchat.
Media looks very different on Snapchat than on other sites. Firstly, they pay social networks for views of their materials, so they choose what to publish carefully. Secondly, for each material, they create announcement posts specifically for Snapchat. Usually this is a short colorful video with bright captions and light music.
It's like a TV: there is always only one announcement on the screen, and it's up to you to decide whether to read the material (swipe up from the bottom of the screen), move on, or close the "channel" of this media altogether and move on to another one. You can subscribe to media that interests you so as not to lose them in the stream.
How to Make Money with Snapchat?

If you like to know how to make money on Snapchat we can assure you that there are many different ways to get Snap rewards. Let's see how to get paid on Snapchat, making Snapchat money.
In order to make Snapchat money, you first need to create and engage your audience. To achieve this end, you should:
Use other social media to promote your account and get Snapchat money. Share a snapcode with other users to follow you;
invite friends and offer mutual PR to other bloggers and celebrities;
develop a content plan and post at least 20 stories per day to get your Snapchat pay;
offer discount coupons, promotional codes, cashback for additional motivation of potential customers;
join message boards in social networking communities where members of common interest exchange information and subscribe to each other, mutually optimizing statistics.
When you have an audience, you can start monetizing your brand/account, making Snapchat money. Here are some tips to help you get Snap rewards:
Create & Promote Unique Content
In order to get a Snapchat pay your content should be original and fun. In humans, on average, the maximum concentration of attention lasts only 12 seconds. Try to pack into this period of time all the most important things that arouse interest and motivate people to buy.

Use the application tools to make the content dynamic and meaningful and get Snap rewards.  Add captions, emoticons, stickers. They should be quite native and exciting.
Use Geofilters
Geofilters are free stickers that users actively share with each other: cities, districts, places, etc. Users add sticker filters to photos to orient the audience in relation to their location.
Run Advertising Campaigns
In order to get your Snapchat pay, you can run campaigns called Snap Ads. Use special call to action buttons to motivate followers to click and go to your landing page.
Participate in Affiliate Programs
You can participate in affiliate campaigns (for example, with Amazon). The most effective method of product PR is reviews. Affiliate marketing is an easy way to get your Snapchat pay.
Share recommendations and reviews with your followers, telling them about the benefits of your partner companies' offers.
Use Promotional Lenses & Stories
Sponsored (advertising) lenses and stories are a unique and effective PR feature that allows you to promote your brand. You can create branded lenses that include your product's logo or design elements. Your followers can share lenses with other users. You can also post sponsored stories which are displayed in a special section. Users see them when viewing the stories of their friends.
Conclusion

Snapchat's target group, Generation Y, is characterized by high social media activity and a desire to turn their daily routine into an online show. Millennials prefer to interact with brands on social networks: follow the news about the company's products and discounts, and make purchases online. This audience will only gain its purchasing power in the coming years, so you should take a closer look at this social network to get promising Snapchat rewards.